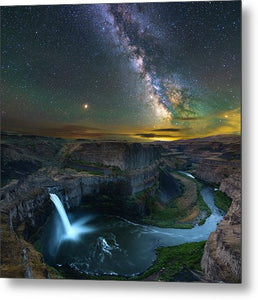 Parallels, Palouse Falls - Metal Print
Regular price $140.00 Sale
Product Details: "Parallels" Palouse Falls metal print by Paul Miller, printed directly onto a sheet of 1/16" thick aluminum. The aluminum sheet is offset from the wall by a 3/4" thick wooden frame which is attached to the back. The high gloss of the aluminum sheet complements the rich colors of any image to produce stunning results. 
Image Details: I visited Palouse Falls, the official state waterfall in Washington State.  The water cascades down a drop of 198 feet into a pool below, as the Palouse River winds its way through ancient canyons before joining the Snake River four miles downstream.  
I was immediately struck by the sheer height and depth of the waterfall and its surrounding cliffs.  After tiptoeing around the different vantage points to find my shot, I set my tripod up on the edge of a cliff over 350 feet above the pool. I took separate exposures of the canyon foreground before panning my camera upward to catch the stars as they traveled across the horizon.  Thankfully the clouds behaved and the wind quieted down at night.  I was worried about my camera setup (not to mention myself) being swept off the edge, to never be seen again except in the local news as a warning to other tourists and photographers.  Mercifully, morning came and I shimmied away from the cliff edge unscathed.