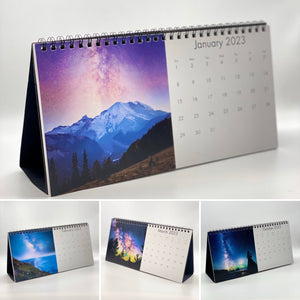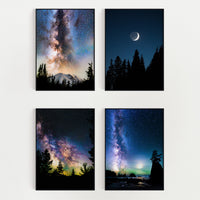 Nighttime Silhouettes Collection
In this collection of art photographs, the southern sky was photographed through the trees with a state of the art camera.


The Milky Way Core is visible behind Mount Rainier, shining through the trees in Index, WA, and rising above the sea stacks at Shi Shi Beach. The crescent moon was photographed in Mount Rainier National Park.


Each shot was planned so that the stars would be visible in these exact locations. None of the images in this collection are composites.
Shop The Collection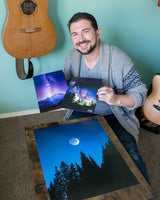 About Paul
Paul's creative career has been built independently, through curiosity and a continued obsession with night photography. His work gained traction when an image of his went viral on social media and was viewed over 90,000 times. Prints have been in demand ever since.


A gallery of 22 metal prints of his work has been showcased at Refine Salon in Bothell. His work has also been on display at Sharp Skin Creations in Bothell and John L. Scott in Lynnwood, among other local businesses. Many of these large metal pieces of art can be seen in classrooms, businesses, and the homes of private collectors.
Want a FREE Print?
I love seeing people light up when they ask about my work.
My hope is that you'll get to take a picture home and experience it for yourself.
Click below to make your selection, just pay shipping. You'll be given the option to upgrade your size or to a full collection after choosing which image you want.
Click Here (Just Pay SHipping)